pBone receives highest royal accolade for innovation
April 23rd, 2019 | 1 min. read

Warwick Music Group are delighted that pBone has been awarded the Queen's Award for Enterprise: Innovation 2019.
Many music industry experts say that the development of pBone, manufactured in recyclable ABS plastic, is the reason for a 15% increase in worldwide sales of trombones in the past three years. Since first going on sale in late 2010, pBone has become the largest-selling trombone worldwide!
Warwick Music Group has now sold more than a quarter of a million pBones - conceived by former engineering student and musician Hugh Rashleigh while studying at Loughborough University. In 2007, he turned to both Steven Greenall - owner of Warwick Music - and Chris Fower for his instrumental design and education expertise.
Steven Greenall, chief executive of Warwick Music Group, said this was a proud moment for a small business that had proved that anything was possible.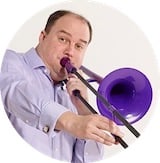 "Our aim was simple – to create a quality instrument that made the joy of music accessible and fun, to help more people to enjoy making music together – and to be able to start at whatever age they might choose. That is what drives us.
"As a team of musicians, we knew that traditional brass instruments are heavy, costly – and easily damaged. We knew too that sales of traditional brass instruments were declining, and that bands and orchestras worldwide were reporting a shortage of brass players.
"So we set out to do something about it. pBone was the start but without it, we could not have developed other instruments that are also proving popular especially amongst young people. These include pTrumpet, pCornet and pBuzz – a new instrument designed specifically for children as young as three to enable them to start their brass playing journey.
"The innovation of pBone has helped to introduce a new generation to the joy of music, as well as the educational and social benefits that music brings.
"We believe in the transformational power of music and that everyone should have the opportunity to make music. By thinking differently, we have made a real difference in the world; we are delighted that the passion, creativity and hard work of our small team has been recognised."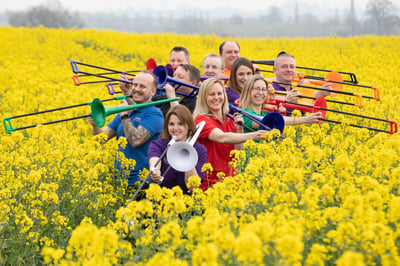 Kate has always had a love for music and after starting to play the clarinet aged six went on to study music at the Royal Scottish Academy of Music and Drama. She joined Warwick Music Group in 2010 as Social Media Manager and now serves as Chief of Staff where her role is the day to day management of the team. She ensures activities are streamlined within the organisation, supporting the priorities of the business to help it grow. She now spends most of my spare time supporting my three children as they learn their own instruments!