How To Help Your Child Learn To Play The Trombone
January 24th, 2023 | 3 min. read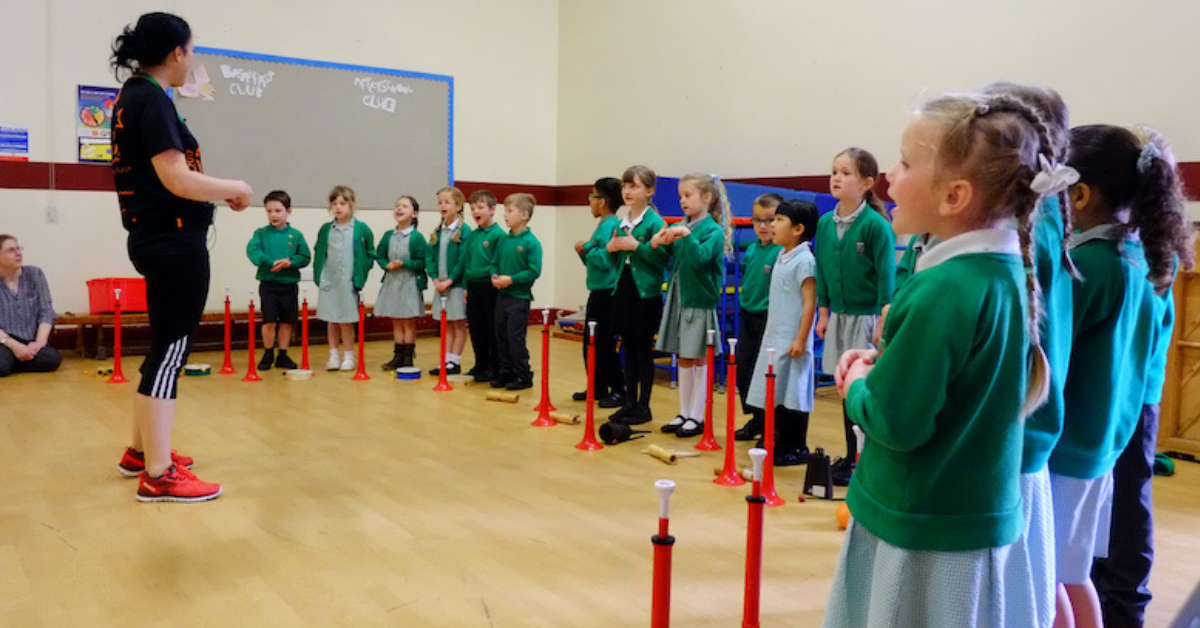 It's 3 pm, you are at the school gates, you've almost made it through another day.
All you need to do is beat the traffic, and avoid making eye contact with Jamie's mum because you can never remember her name. Is it Gill? Or Jane? No, that sounds too much like Jamie. Or is that her name - Jamie?
...and now she's waving you over, and you know that she knows that you don't know her name, but you do know that the first thing she's going to talk about is how great her little one is, and…
"Hiya! I suppose you'll be looking for an instrument for your youngest soon. Jamie has started to learn to play the trombone, we're going to look for a new one this weekend!"
Well, at least you know it's not Jamie that you're talking to.
But now your head is swimming. Because you need to know: what comes next?
***
Jamie's mum, along with many other parents, might seem to know all there is to know about buying instruments. She could be a musician herself. Maybe she played the trombone when she was younger. She could be a trombone prodigy who has in bands to sold-out concert halls across the world. Maybe.
What they might not know is that there is a new kind of instrument: a cheat code designed to help young learners get started when learning the trombone. The pBuzz.
The pBuzz is the beginner instrument of choice for many children looking to learn to play the trombone. You may have heard about our instruments through your school's music teacher. You may have spoken to other parents about them. Your child may already play a pBuzz. And if you live in Wales, your child could well be one of the tens of thousands who will get their very own pBuzz to start their musical education adventure.
If you haven't heard the buzz, let's find out about this fun new instrument, and how it could help your child to take their first steps in playing the trombone.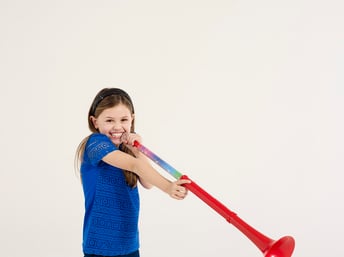 What is the pBuzz?
The pBuzz makes the beginning of the brass journey as easy and accessible as possible. And that doesn't just mean easy for your child: it also makes it simple for a non-brass-playing adult to understand and teach too.
The instrument is a simplified trombone, with a mouthpiece to blow or "buzz" into and create a sound. This buzzing sound made with the lips is called the embouchure and is a crucial technique for playing the trombone. Learning this skill on a pBuzz is the perfect way for young learners to get a head start!
The pBuzz also features a slide…like a trombone! By making the instrument longer, the sound gets lower, and by making it shorter, the sound gets higher. Whatever the sound produced, it leaves the pBuzz from the bell. And that's it! A simple, sustainable starter instrument for children aged three years and up.
What makes the pBuzz a great beginner instrument?
Jamie's mum might be rushing off to buy a trombone. And for some children, a beginner trombone is the right option. For younger learners, the simple skills needed to produce a sound in the pBuzz make it a better fit than a trombone or other brass instruments.
The pBuzz is incredibly lightweight, which makes it easier to play than other instruments. It is low maintenance, a breeze to clean, and incredibly robust. You can even clean the included mouthpiece in your dishwasher! And best of all, the pBuzz is affordable.
How will a simple musical instrument like the pBuzz help my child progress?
The pBuzz may be small, but it's a mighty good way to introduce your child to the benefits of music. Children who learn a musical instrument can find a new creative outlet, improve concentration and disciple, and improve their collaboration and confidence. Playing an instrument can even improve their performance in other areas of their schoolwork.
Now we're not suggesting that picking up a pBuzz will send your little one's grades soaring or make their rooms tidier, but it will help them tap into the potential of music.
How can I help my child play the pBuzz?
We have designed pBuzz to be easy for children to play with and for adults to teach. You don't need to be Mark Ronson to get your child feeling the groove! We have lots of pBuzz resources to help you and your mini-musician along the way, including backing tracks to play along to, guides to taking care of your pBuzz, and much more!
***
This simple and fun experience the pBuzz is preparing children for the skills needed to be top trombone players. As they become more comfortable with the buzzing sound and create different notes with the slide, they will grow in confidence. This makes the leap to a traditional brass instrument less daunting.
It also means that you haven't spent hundreds of pounds on an instrument that you think your child should play. Instead, think of it as dipping your toe in the water.
And it might lead to some bragging at the school gates further down the line.
Click here to hear pBuzz in action!
Find the pBuzz on Amazon here!
Adam McCulloch is Content Manager for Warwick Music. He joined the company in 2022. The role combines his twin passions: writing and music.